MP Damian Collins' concern over Coventry City ownership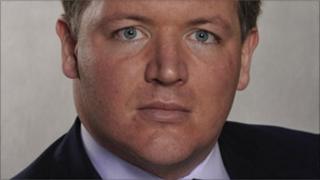 A Conservative MP has written to Sports Minister Hugh Robertson expressing concern about the ownership of Coventry City Football Club.
Damian Collins, who is part of a Commons committee looking into how football in England is run, wants to know more about owners Sisu Capital.
"In the case of Coventry City it didn't seem to be clear who the ultimate owners of the club were," he said.
A spokesperson for Sisu said the club is managed by private equity ownership.
Coventry's current owners have been in place since 2007 but there has been unrest, and changes were made at boardroom level this year.
The most notable of these was the departure of chairman Ray Ranson who had been integral to the takeover.
Mr Collins, who sits on the Commons' Culture Media and Sport Committee, told BBC Coventry & Warwickshire he was worried that it was not clear who is in charge of the Championship outfit.
"I took this up with the Football League to ask them and they confirmed to me that because no individual investor owned more than 10% of the club they didn't know who any investors in the club were," the Folkestone and Hythe MP said.
"I thought that was very unsatisfactory.
"We're constantly reassured that there are proper rules in place that govern who can own and invest in football clubs, what their background is, whether they have a stake or interest in other football clubs.
"To be able to apply those rules we've got to know who those investors are.
"One of the reasons these rules are in place on club ownership is to make sure there aren't conflicts of interest with people who've got stakes in different football clubs.
'Not anonymous'
"It's important from an integrity of competition point of view. It's also important in terms of the fans.
"When a club gets into financial difficulties it's the fans that suffer and it's also local businesses that are owed money by that football club that suffer.
"If the Football League and the Premier League were to turn around to Coventry and say, 'it's not good enough, you've got to have a declared owner of the club otherwise we won't let you play', I think you'd see a change."
Coventry City have declined to respond to Mr Collins' comments but have stood by quotes attributed to director Onye Igwe that appeared on The Guardian's website on Tuesday.
Mr Igwe told the publication: "We are not being anonymous. I am the fund's manager and a partner in Sisu, that is public."
He added that the funds for the club came from professional investors of various nationalities who wanted confidentiality, which was "normal practice in private equity".