Warwickshire council offers help for first-time buyers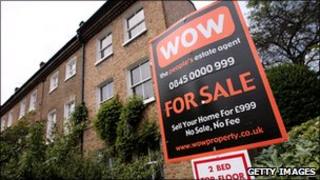 People looking to get on the property ladder in north Warwickshire could soon get financial assistance from Nuneaton and Bedworth Borough Council.
Councillors have agreed to borrow £1m which will be made available to potential first-time buyers struggling to raise a big enough deposit.
The council would help people who have been able to raise enough money to put up a 5% deposit with Lloyds TSB.
Only homes valued up to £125k will be eligible for the scheme.
The news comes on the day the Bank of England announced there had been a rise in the number of new mortgages, with about 52,000 approved in August - the highest figure since December 2009.
'Really struggling'
The Local Lend a Hand scheme was launched earlier this year, with councils stumping up 20% of the value of a property which goes straight to the bank rather than to the house buyer.
Councillor Julie Jackson, cabinet member for central services in Nuneaton and Bedworth, said the council was not acting recklessly in agreeing to the scheme and hoped it would benefit the local economy.
She said: "We know many people want to get on to the market and buy their first property but are really struggling to save a 25% deposit. It really is prohibitive for many people.
"I think we have a duty to provide many things for local people. We have a huge number of people on the council housing waiting list, over 3,000, and this is a really important issue for many local people.
"We've considered the risks of doing this and believe in the current economic climate that this is something that will be valued by many people."
The council has estimated the scheme would benefit about 50 would-be home owners in Nuneaton and Bedworth.