Coventry-based CPP hopes to make Spyker cars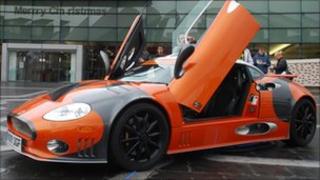 A Coventry automotive company says it still hopes to manufacture Spyker cars despite reports suggesting that the business is to be sold elsewhere.
CPP Global Holdings Ltd had signed a memorandum of understanding to acquire Spyker from owners Swedish Automobile.
That lapsed in June and CPP looks set to lose out to North Street Capital, a US-based private equity firm.
But CPP's managing director Brendan O'Toole said the firm was "still keen to progress our proposed acquisition".
He said the company had "remained patient and discussions have continued".
Redevelopment plans
The firm currently operates from five sites in Coventry, employing 250 staff, and earlier this month announced its intention to move operations to Browns Lane, the former home of a Jaguar plant.
CPP is set to engineer, develop and build the all new Jensen Interceptor at its planned new headquarters from 2014. It said redevelopment plans would go ahead regardless of the outcome of the attempted purchase of Spyker.
If Spyker is bought by North Street Capital, CPP said it would "continue to offer its support in future engineering programmes, body and chassis production, and final trim and assembly of Spyker models".