New Guide Dogs breeding centre to produce 1,500 puppies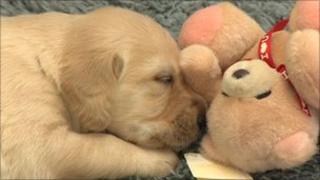 A new £20m national guide dog breeding centre will be officially opened in Warwickshire this week.
The new centre will be able to produce an extra 400 puppies a year for the Guide Dogs charity.
HRH Princess Alexandra will visit the centre at Bishops Tachbrook, near Leamington Spa, to meet volunteers and staff on Tuesday.
The opening coincides with the 80th anniversary of the charity - its first guide dogs qualified in October 1931.
The four dogs and their partners qualified in Wallasey on the Wirral.
'Out and about'
The anniversary falls during Guide Dogs Week which runs from 1 to 9 October.
Breeding centre operations manager Carol Warner said: "The new centre will allow us to increase our capacity to breed puppies from 1,100 to 1,500 a year which is a key part of our ambition to get more blind and partially sighted people out and about.
"Guide Dogs has bred puppies in Bishops Tachbrook from Tollgate House since 1968, and with this fantastic new facility we're looking forward to continuing that tradition for many years to come."
In May the first puppies were born at the new centre.
Guide dog Helga gave birth to five puppies on 21 May.
The charity's breeding operations moved to the centre in early May and it will open to the public later this year.
A specially designed walkway runs through the whole centre allowing groups of visitors to see the dogs without disrupting the day-to-day operations of the centre.
A charity spokeswoman said the walkway was important because it would help minimise the risk of introducing infection to the dogs, puppies and pregnant mothers.