Hydrogen-powered H2EV car launched in Coventry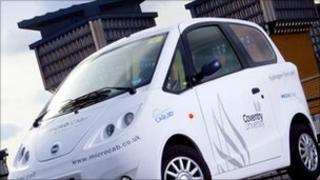 A Coventry vehicle manufacturer has launched a hydrogen-powered car.
A fleet of the H2EV vehicles will be used in a trial of low-carbon vehicles across the West Midlands.
The vehicle has a fuel cell that combines hydrogen with oxygen from the air to create electricity which powers the car's motors.
It is made by Microcab, a spin-off company from Coventry University, which the vehicle was a "significant step" in vehicles powered by alternative energy.
John Jostins, managing director and professor of sustainable transport design at the university, said: "It's our hope that the H2EV in connection with the UK's burgeoning hydrogen fuelling infrastructure, will cultivate interest in and funding for the UK's niche vehicle sector, particularly in the field of low emissions automotive technologies where the West Midlands has excelled for years."
Vehicles will be supplied to the Coventry and Birmingham Low Emission Demonstrator (CABLED) project, which is running the trial.
In September, the UK's first public refuelling station for hydrogen vehicles was opened in Swindon.