Coventry residents urged to clean up city for Olympics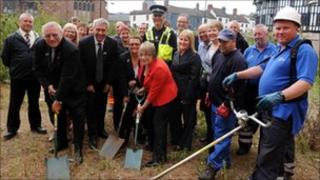 A campaign has been launched in Coventry to inspire residents to help clean up the city as it prepares for the 2012 Olympics.
The Proud of my City scheme will see people from private, public and voluntary sectors work together.
The leader of Coventry City Council, councillor John Mutton, hoped the campaign would raise "civic pride".
The Ricoh Arena, to be called the City of Coventry Stadium during the Games, is to host 12 football matches.
Mr Mutton added that the campaign, coordinated by Coventry Partnership, was about "celebrating what's good about the city".
City ambassadors
"Whether it's taking part in a street clean-up, running your own community fun-day, becoming a neighbourhood watch co-ordinator or just coming into the city to enjoy its attractions and the new Broadgate when it's finished, there will be opportunities for everyone to get involved over the next six months," he said.
The launch of Proud of my City comes on the same day as applications opened for the Coventry Ambassadors scheme, with 300 volunteers sought to assist those attending football games next summer.
Work is already under way on a £7m project in Broadgate in the city centre to transform the square into a traffic-free zone.
Other areas targeted within the ring-road include a "pocket park" (small open area) on Bishop Street opposite the Old Grammar School.