Translation software 'could save NHS millions'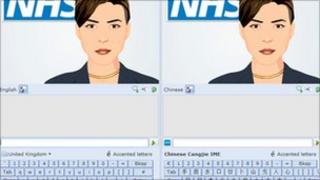 A Coventry company is launching an online system it claims could save the NHS millions in translator fees.
DNM Consultancy said the software, called Clairetalk, would allow doctors to communicate directly with non-English speaking patients.
It can be used on computers or portable devices and provides translations in 33 languages, 22 of which feature audio.
A trial was run at University Hospitals Coventry and Warwickshire, but it said it would not comment on the results.
The online system was used by doctors in the Women's and Children's Services department as part of a six-month pilot, which ended in February.
The department purchased the system in August.
Emergency operations
David Meredith, from DNM, said: "Clairetalk will not replace face-to-face interpreters in every situation, but in the majority of cases it is more than adequate, and in emergency situations it is potentially life-saving."
Mr Meredith added that during the trial, the system had been used to gain consent for emergency operations and explain a stillbirth to a mother.
The company claimed the system had almost halved the monthly cost of translation services within the department.
Mr Meredith said that while an electronic device might seem a strange way of communicating sensitive news, a translator, often speaking from behind a curtain, could also be awkward for patients.
The system has been developed with Lincoln-based Emas UK, which first designed the software for use in schools with pupils who spoke English as an additional language.