Warwick Courthouse to be restored with lottery funding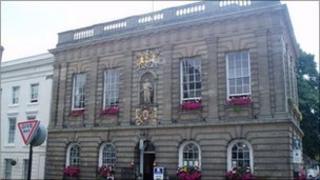 The 18th Century former courthouse in Warwick is to undergo a restoration and conservation programme.
It will receive a Heritage Lottery Fund grant of just under £368,000 and will enable Warwick Town Council to transform the building.
The two-year project, Unlocking Warwick, will conserve and repair the Grade-I listed building.
Warwick Courthouse is currently home to the tourist information centre, civic assembly rooms and ballroom.
'Fascinating story'
Anne Jenkins, head of the Heritage Lottery Fund in the West Midlands, said: "The courthouse marks an important step change in British architecture and construction for Warwick.
"This project, while rejuvenating and conserving a much-loved town centre landmark, will also bring its fascinating story alive for future generations of locals and visitors alike."
Plans include conservation work in the Yeomanry Museum in the courthouse basement, improved access and educational facilities.
It is hoped the improvements will increase the understanding of the importance of the building in Warwick's history.
The courthouse was designed and built by Francis Smith in 1725 and replaced a timber-framed medieval tavern that survived the Great Fire of Warwick in 1694.
Mayor of Warwick Trudy Offer said: "This news now unlocks the future of the building for Warwick's local community and visitors to the town.
"The town council are also to carry out further works estimated at £370,000.
"New access to the building will be greatly improved, and the provision of a lift, kitchen, new toilets and renovation work to the ballroom will encourage greater use for wedding receptions and small conferences."