'Delight' at Keith Bristow appointment to National Crime Agency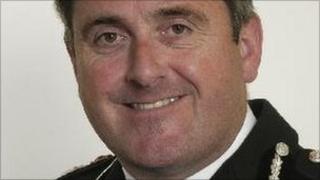 The police chief chosen to head the UK's new National Crime Agency (NCA) has been described by his police authority colleagues as an "outstanding" leader.
Warwickshire Police Authority said chief constable Keith Bristow had "transformed" the force since he was appointed there in 2006.
The authority said crime in the county had dropped by more than 27% between 2006-2007 and 2010-2011.
The NCA will start running in 2013, when it takes over from the Serious Organised Crime Agency.
Its expanded role will include powers to order police forces to run operations into drugs and trafficking.
'Important protection'
Warwickshire Police Authority said Mr Bristow would remain chief constable at the force for the moment, but discussions about who to appoint in the future would take place on 19 October.
Authority chair Phil Robson said the authority was "delighted" that Mr Bristow had been appointed to lead the NCA.
He added: "Keith has already worked at national and international level to build relationships between police services and law-enforcement agencies in many countries.
"We are delighted that he will continue to deliver important protection to local communities in Warwickshire by tackling serious and organised crime nationally and internationally."
Mr Robson said the police authority and police force had focused on crimes that were "most serious and most likely to occur" during Mr Bristow's time at the helm.
He said: "Offences of serious violence [have] reduced by 24%, burglary of homes [are] down 29% and robbery [have been] reduced by 39% during the same period.
"The level of satisfaction with policing services has increased from 75.5% to 84.1% over the five-year period."