Dislodged weather vane causes Coventry evacuation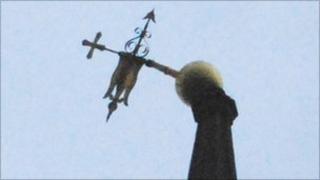 Hundreds of workers were evacuated from their offices in Coventry after winds helped dislodge the "quarter-tonne" weather vane of a nearby former church.
The vane at the top of the spire of Christchurch - now Inspires bar - on New Union Street is still at an angle.
A spokesman for Coventry City Council said about 500 people from Christchurch House, Spire House and the Methodist Central Hall were all evacuated.
The area remains cordoned off with repairs due to begin on Tuesday.
Buildings to reopen
Nigel Clews, assistant director of property management at the city council, said the problem with the vane was reported at about 13:20 BST.
"The weather has clearly contributed to it but we believe a security fastening inside the spire has either broken or bent which has allowed the vane to bend over at an angle," he said.
"Steeplejacks have been here today looking at how to make it safe tomorrow, pending a permanent repair."
Mr Clews added that adjacent Christchurch House and Spire House council buildings should reopen on Tuesday, but there may be an adverse knock-on for some services.
"The services that are affected are the benefits service but that is capable of being accessed from another access. Corporate finance, youth offending service and some NHS staff are affected. As far as we can we'll be providing a service from the building," he said.
"People need to report to Christchurch and Spire House as normal but there will be parts of the building they will not be able to access."
Christchurch spire, along with those at St Michaels and Holy Trinity in the city centre, make up Coventry's three spires.