"Milestone" cargo flights resume at Coventry Airport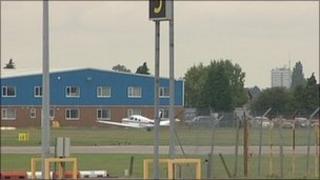 Cargo flights have resumed at Coventry Airport following a six-figure deal.
The flights involve Maastricht in the Netherlands, Lille in France and Dublin in an agreement with Atlantic Airlines.
The deal has created 10 new jobs in air traffic control, operation and fire departments while six jobs have been transferred from Birmingham.
The owner of the airport, Sir Peter Rigby, said it was a "milestone" step to making Coventry a commercially active airport again.
He said: "At the moment we have flying schools, business jets, general aviation and helicopter activity but signing the contract with Atlantic Airlines is an important milestone in terms of the airport moving back to where it was previously."
Sir Peter said it was a positive indicator for "the future of the business and a signal of our intent to continue driving Coventry Airport forward".
Aviation expert, Mark Avery, said some people may not welcome the return of cargo flights.
He said: "If I was living around the airport I think I'd rather have passenger flights.
"They're more likely to be the sort of new generation of aircraft that are quieter and more fuel efficient.
"The restrictions on passenger flights also mean they're far more likely to fly in relatively normal hours."