Review of George Eliot hospital paediatric unit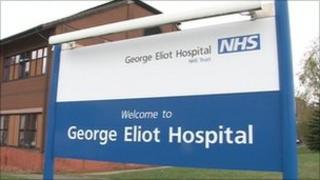 The future of children's and maternity services at a Warwickshire hospital is under review, a health trust has said.
The Arden Cluster Trust, which oversees Nuneaton's George Eliot hospital, said a business case would be ready soon and a consultation was planned.
Services could be moved to Coventry under the plan but one county councillor claims patients have been told nothing.
Councillor Barry Longdon believes there is no reason to move the services.
Mr Longdon is concerned about the impact moving the services would have on the hospital's future.
'Highest quality'
"The people affected by this are the users and they knew nothing about it until I spoke up about it," he said.
"I haven't got any assurance about what the process is going to be. The whole issue for me is not whether or not it's going to go, the issue is it's not broken, why fix it?"
Martin Lee, of the trust, confirmed that "options are being looked at".
"There's been a lot of co-operation and close working between the University Hospital in Coventry and George Eliot hospital, particularly around paediatrics, for quite a few years, and particularly around consultants providing care for the new born," he said.
In a statement, the trust said: "The Arden Cluster is committed to buying and developing services of the highest quality and safety for the people of North Warwickshire .
"Options for the long term future of children's and maternity services are currently being considered with the full involvement of doctor and nurses."
"No decision has yet been taken on the way forward and the Arden Cluster does not have a preferred option. A business case containing the outcome of an options appraisal exercise will be ready by the end October and we will be much clearer about how services might best be delivered at that time."
The trust will be consulting the options from December, so that residents of North Warwickshire can comment on the proposals.