Cemex given £200,000 fine for cement death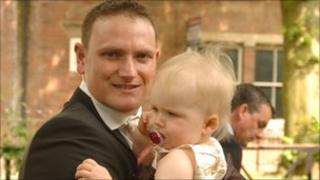 A £200,000 fine has been given to cement firm Cemex following the death of a worker at a factory in Rugby, Warwickshire, three years ago.
Peter Reynolds, 28, from Brownsover, Rugby, was clearing a machine blockage when it exploded on 15 January 2008.
Leamington Magistrates' Court was told the blast blew him through the building wall and he died from head injuries.
In August, Cemex pleaded guilty to breaching the Health and Safety at Work Act.
The company, which makes cement and building products for the construction industry, was also ordered to pay £172,000 in costs at the hearing on Monday.
The father-of-one was caught in "a violent explosion" of steam and dust from inside the mixer he was clearing, the Health and Safety Executive (HSE) said.
Its investigation found that Cemex was aware of the potential for blockages to cause explosions as steam pressure built up inside, but took no action to prevent them.
The firm failed to review its risk assessment following a previous explosion in 2006 when another man was injured using the same machine, the HSE said.
The explosion bent a metal-cladded external wall.
Cemex thought it was due to a mechanical problem and did not realise there was the potential for dangerous gases to build up, the court heard.
Ian Southcott, of Cemex, said after the hearing: "I think as you heard in the court, the company did conduct a very thorough investigation.
"Unfortunately the wrong conclusion was drawn at the time."
HSE principal inspector Neil Craig said had the 2006 incident been investigated properly, Mr Reynolds's death could have been avoided.
"This was an entirely avoidable tragedy, which has left a young family without a husband and a father," he said.
"If Cemex had investigated the previous incident properly, Mr Reynolds would still be alive today.
"Cemex's protection against the build up of pressure was for the plant to be continuously vented when processing waste cement dust, but it frequently blocked.
'Early tragic death'
"These blockages then caused steam to build up to a high pressure.
"The company could have made a number of changes to the mixer to reduce the flow of dust and improve the venting and cooling systems, or devised a new system of work.
"However, no action was taken and employees were expected to operate this dangerous piece of machinery."
Mr Reynolds's mother, Jane, said his death had left a huge gap.
"Peter was a wonderful son, husband, father, brother and uncle," she said.
"His early tragic death has left a hole in our lives that will never be filled.
"The loss we have suffered cannot be measured by money, but we hope today's fine makes those at the top of Cemex and other firms think about the safety of their workers.
"After all, they are the ones who get hurt and killed when it all goes wrong."