Warwickshire family to thank The Drifters for funeral song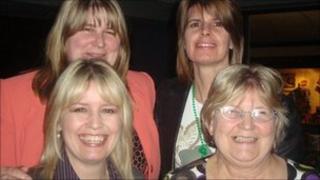 A Warwickshire woman is looking forward to thanking The Drifters after the American soul legends recorded a song especially for her mother's funeral.
Rose Hansford, from Kineton, was a fan of the band and her family wanted to play a song they heard at one of their concerts at her funeral.
Stephanie Clifton, one of Rose's three daughters, emailed the band after having trouble finding a recording of their cover of the Il Divo song 'Mama'.
She said: "The words were extremely poignant."
But she was told they had never recorded it and had only performed live.
'Not a sad song'
However, the group's lead singer, Michael Williams, said they took the request to heart. "We were so sad and we kept trying to think of a way of what can do for the family," he said,
"Then I had a brainwave, I said well why can't we go into one of the concerts early, in the sound check, and we can record it there.
"We felt pretty bad and it was the least we could do. She was a life-long Drifters fan and we felt this was a good way of giving back to our fans."
They recorded the song and donated tour tickets to help the family raise funds for Cancer Research.
The band has also arranged to meet Rose Hansford's three daughters, Stephanie, Vikki and Sharon, before their concert in Birmingham on 6 November.
Mrs Clifton said: "We still cannot quite believe their generosity."
Mrs Clifton said the song was an important element of the funeral in Kineton on 28 September.
"In March 2010, Mum took us three girls to see the Drifters in Birmingham. One of the songs they covered was the Il Divo song, Mama," she said.
"Well, all four of us were in tears. The song is not a sad song but the words were extremely poignant.
"Since the concert, I have been trying to track down a recording of it for Mum as she would often say 'have you found it yet?'
"When she passed away on 17 September, all three of us said we must find a recording of the song to play at her funeral."