Coventry MP Geoffrey Robinson in dangerous dogs debate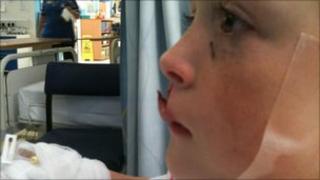 Coventry North West MP Geoffrey Robinson has raised the issue of dangerous dogs in parliament.
He is backing constituent Sarah Foskett, whose daughter Alisha needed more than 30 stitches after she was bitten by a Staffordshire bull terrier.
Ms Foskett, 31, is frustrated the attack in June is exempt from criminal law because it happened on private property.
West Midlands Police said Ms Foskett could pursue a civil prosecution.
'Scarred for life'
A statement from the police said: "It is always distressing for the family when a dog bites their child but in law it is not always a criminal matter for investigation by the police.
"When this incident was reported, an officer from the local Neighbourhood Team spoke to the injured girl's parents and obtained the full details."
Alisha, who was eight at the time of the attack, suffered injuries to her face and throat.
An online petition has been set up to raise awareness of what Ms Foskett has described as a "loophole" in the laws relating to dog attacks, adding that Alisha has been "scarred for life".
Labour MP Mr Robinson said: "The police and the others called in to investigate the situation said we can't do anything because it's on private property.
"They raised the issue that the Dangerous Dogs Act did not cover the incidence of attacks in private property by dangerous dogs on individuals, and that is what we're trying to get the government to do."