Warwickshire policeman Andy Parker in chief constable recommendation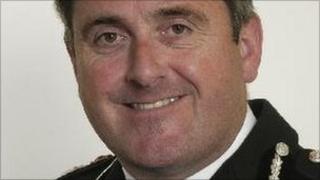 The next chief constable for Warwickshire Police has been recommended by the police authority.
Members unanimously agreed that current Deputy Chief Constable Andy Parker should take on the role.
It is currently occupied by Keith Bristow who will leave the force later this year to lead the new National Crime Agency.
The authority's recommendation will be forwarded to the Home Office this week for approval.
'Proven track record'
Mr Parker has held his current role since 2006.
Phil Robson, who chairs Warwickshire Police Authority, said: "Andy Parker has been a very capable deputy chief constable and has a proven track record of delivering operational results and managing organisational change.
"His appointment ensures consistency of professional leadership at a time when the force is entering into a strategic alliance with West Mercia Police and will ensure that the change programme continues to be driven forward."
The appointment will run until 30 June 2013 when the Police and Crime Commissioner, who will be appointed in November 2012, will begin the process to appoint a new chief constable in Spring 2013.