'Eyesore' building being pulled down in Coventry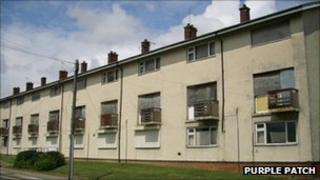 A property that has been described as an "eyesore" in north east Coventry is being demolished after lying empty for more than a year.
Work is under way to knock down the former Wood End Advice Centre building on Hillmorton Road.
The demolition work will make way for new housing as part of a redevelopment project in the area.
Local councillor Ed Ruane welcomed news that "this eyesore is finally coming down".
He added: "[It is] a further sign of how the regeneration of the area is still continuing and moving forward even in this difficult economic climate."
Whitefriars Housing said the building was originally flats but residents moved out about 10 years ago and the advice centre then moved into the ground floor.
The centre has moved to a new home at Moat House Leisure and Neighbourhood Centre.