Helen Ley Centre closure: Volunteer 'devastated'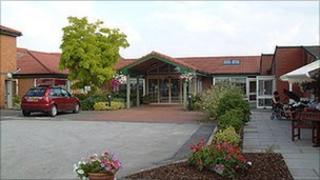 A trustee at the Helen Ley Centre in Leamington Spa has said she is "devastated" at news it will close by the end of January.
Barbara Shepherd, who is also a volunteer, had hoped that a new provider would be found.
Redundancy consultations have begun with the 97 staff at the MS respite centre, which has nine residents.
The MS Society had hoped to transfer the care facility to another provider, but has had "no viable offers".
Ms Shepherd, who has been a member of The Friends of the Centre since it opened 32 years ago, said: "It's just absolutely devastating; the fact that people are in Helen Ley, they are happy to be there, they know that their carers can go away and have a break and not be worried about them."
The society, which is also trying to sell centres in York, Surrey and East Lothian, announced its decision to move out of providing respite care directly last year.
'Postcode lottery'
Sue Farrington, director of information and education with the MS Society, said: "We've been able to successfully transfer the respite care facility over to another provider in other areas, but unfortunately it's not been the case with Helen Ley.
"£2.7m was put towards us directly providing residential respite care for four centres... but we know that there are around 30,000 people who need respite care, so in a sense we were unfortunately running our own postcode lottery.
"We've found people are finding alternatives and, with our financial support, people are now able to go away for a holiday for the first time and take a carer to provide that respite."
Ms Shepherd added that she understood the reasons behind the closure, but felt some of the residents had been forgotten.
"There's a very small percentage of people who, because of their degree of disability, are unable to have choice."
Martyn Tilson, chair of the Helen Ley Action Group, is also a trustee of the recently-formed Phoenix Respite Care Foundation, which has been set up to ensure respite care continues.
He said: "The charity is in its very early days and we are doing what we can... respite is a lifeline for people with MS and their carers."