Coventry war memorial rededicated by city bishop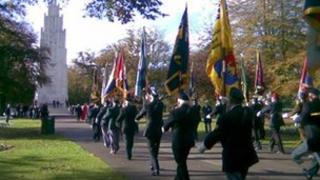 The cenotaph at Coventry's War Memorial Park has been rededicated in a service by the city's bishop.
The Right Reverend Christopher Cocksworth officiated proceedings after repair work was completed on the 87ft (26.5m) memorial.
"The city council and the veterans thought it would be good to rededicate it just out of recognition of its long history," he said.
The original dedication took place upon completion in October 1927.
The tower-like structure, designed by a local architect called TF Tickner, is made of Portland stone and was built six years after the park opened, at a reported cost of £5,000.
The idea was to commemorate soldiers from the city who had died in World War I and, later, all soldiers from the city who have died in conflict.
Lottery grant
Work on the memorial was one of about 30 projects carried out as part of a multi-million pound revamp of the park.
Coventry City Council said the monument had undergone "a full scale clean" and has had "defective leading work replaced, stone-work repointed and repaired, new steps, a ramp and handrails installed to improve access".
A white bulb has replaced the previous one at the request of the veterans.
The Lord Mayor of Coventry, councillor Keiran Mulhall, was at the rededication service on Tuesday.
He said: "The rededication of the war memorial is really important to the people of Coventry, especially since so much work has been done to restore and improve it.
"It was [looking] a little bit sad but today it's looking beautiful and it's a real tribute for those who've lost their lives."
A grant of £2.8m was awarded by the Heritage Lottery Fund and the Big Lottery Fund to help carry out the improvements across the whole park in time for its 90th anniversary earlier this year.