Coventry buses and taxis banned from Broadgate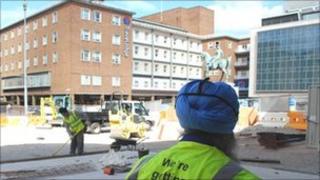 Buses and taxis are to be barred from part of Coventry city centre from Sunday night as work continues to make the area traffic-free.
The development of Broadgate is part of a £7m project aimed at transforming the city ahead of the 2012 Olympics.
After 30 October, buses will use nearby Ironmonger Row with taxis moving to a new rank in Greyfriars Lane.
Coventry's Ricoh Arena, to be called City of Coventry Stadium, will host 12 Olympic football matches next summer.
Councillor Lindsley Harvard, cabinet member for city services, said : "I think we have achieved the task people asked us to, of getting them as close as possible to Broadgate, whilst also making access to West Orchards easier.
"Moreover, we have plans for people to easily access other parts of the city centre, via hop on and off inner ring route services."
However, the Labour-led council's plans have been criticised by Conservative councillors who say it will lead to a loss of business.
Tory councillor John Blundell has previously called for "buses to be able to remain in Broadgate" with all other traffic banned.