Warwickshire's Best Village competition at risk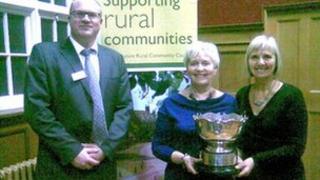 Organisers of an annual Midlands village competition say the awards are under threat because of funding cuts.
Warwickshire Rural Community Council (WRCC) runs the Best Village competition, with Wolvey taking top honours for 2011 on Wednesday.
Chief Executive Kim Slater said it would be "hugely disappointing" to see the awards disappear but added WRCC would not be able to finance them.
There were six other awards handed out at a ceremony in Henley-in-Arden.
"We've lost quite significant funding in this year and the board have taken a very tough decision to stop doing the awards and to resource them from within the organisation," said Mr Slater.
Struggling communities
"What we're hoping is that we'll be able to find enough people out in the community that are interested in seeing this celebration go ahead and are willing to put some time and energy in organising it, perhaps even get some sponsors to come forward because we'd love these to continue and we'd love to support them.
"We think they're a key thing to what we do and we're very sorry to see them go because the kind of activity we're trying to celebrate is exactly what Warwickshire Rural Community Council is about.
"Without the kind of activity we've seen here at the awards, you feel that some of these communities would really struggle."
Members of Wolvey Parish Council felt the gold award for the village, which won bronze in the overall competition last year, would help make villagers more aware of activities that are going on.
The chair of the parish council, Ruth Buswell said: "I think it may encourage more people to volunteer. The environment group is getting new members all the time so I think it helps that we do win awards."