Coventry Writers' Group releases first book about city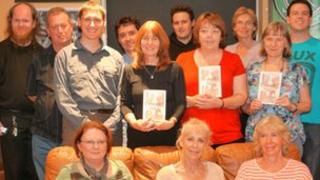 Budding authors in the Midlands have had their work published after a writers' group released its first ever book four decades after it formed.
Coventry Tales is an anthology put together by Coventry Writers' Group, which has been running since the early 1970s.
A mixture of 20 short stories and poems, all the material came from entries submitted for a competition run by the organisation earlier in the year.
From a primary school pupil to those in retirement, the range of ages of contributors is vast, but all were inspired by the same city.
Many had not previously had their work in print although some, such as Ann Evans, have shared their publishing experiences to help the group over the years.
The piece she submitted for the anthology is called Inspired and is based on an unpublished story of hers which is set in medieval and modern Coventry.
Offering encouragement
Ms Evans, who has had 10 children's novels published, the first called Cry Danger in 1995, said she was as proud of Coventry Tales as she was of any of her previous individual works.
"This is a lovely joint venture and I think it's brilliant for the people in the group who haven't had anything else published. It's a lovely start for them," she said.
"I hope it's the encouragement they need to go on. The smallest little thing you can get published can really spur you on to do a lot more great things."
Ms Evans first joined the group about 30 years ago looking for guidance on how to get material published.
"My writing career was a hobby to start with but is now more a way of life," she continued.
"It's always been a helpful thing to talk to people about the craft of writing. I'm always learning from other people.
"Mike Boxwell, who's really been the man behind this anthology, joined within the last two years and he's really given the group a real boost.
"He's actually got us organised. It's something we've been thinking about for a long time and finally he's pushed it and got it underway."
Mr Boxwell runs a publishers with his wife in nearby Ryton-on-Dunsmore and has himself had non-fiction work on solar power and electric cars in print.
Coventry Tales will be made available in local stores but Ms Evans is hopeful it will have a wider reaching appeal.
"It's a nice collection of poems and stories. Even if you haven't got connections with Coventry it's a good read."
Coventry Writers' Group meets on the first Tuesday of the month at Flannelly's Club on Lower Holyhead Road.