Eight Persian cats dumped in Meriden field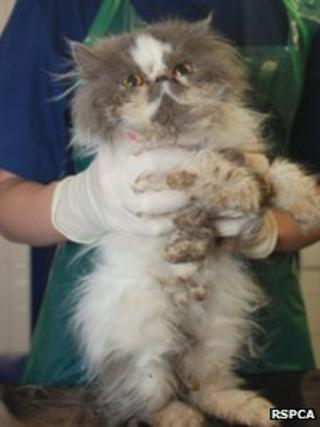 Eight Persian cats have been dumped in a field in the West Midlands.
Seven underweight and bedraggled cats were found in a field near Packington Lane, Meriden, on Bonfire Night.
One of the kittens was snuggled up to a dead litter mate and another Persian was found abandoned in the same place on Monday.
The RSPCA said it was concerned for the welfare of other animals that could be in the owner's care and has asked for anyone with information to call.
The Persians are different colours and sexes and are a mixture of kittens, juveniles and adult cats.
'Shockingly cruel'
Boris Lasserre, RSPCA animal welfare officer, said: "These cats have endured a horrendous experience and sadly have been neglected for some time.
"To find one of the kittens huddled up to the body of a dead kitten was particularly distressing. Their abandonment is a shockingly cruel act on the part of the owner."
When the cats were found Mr Lasserre said they were underweight and had urine scalds on their bodies, overgrown claws embedded in their paws and faeces matted in their fur.
He added: "They were absolutely ravenous when they first came into the hospital.
"I have never seen cats eat so quickly. I firmly believe the cats were simply dumped to perish as being pedigree pets they have very little survival instinct in the wild."
One of the cats has a ruptured eye and another one is being fed on a drip.
Mr Lasserre said: "I believe someone will know who the cats belong to and I urge that person to please contact me as there may be more animals still with the owner in the same or worst state of neglect. They urgently need our help."