Andy Parker confirmed as Warwickshire Chief Constable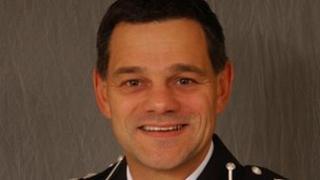 The appointment of Warwickshire Police's new chief constable has been approved by the Home Office.
Andy Parker, who will start work on 1 December, replaces Keith Bristow who has left to lead the new National Crime Agency.
Mr Parker joined the force as Assistant Chief Constable from North Yorkshire Police in 2005 and was promoted to Deputy Chief Constable in 2007.
Neil Brunton has been appointed temporary deputy chief constable.
Guy Rutter, currently serving with West Mercia Police, has been made temporary assistant chief constable with responsibility for protective services in both forces.
Mr Parker is a graduate of Liverpool University and has a post-graduate diploma in applied criminology.
He was unanimously recommended for the job by Warwickshire Police Authority.
He said: "As we move towards a future working more closely with West Mercia Police, we will ensure that our clear focus on protecting local communities is maintained."
The appointment will run until June 2013 when the Police and Crime Commissioner, who will be appointed in November 2012, will begin the process of appointing a new chief constable.