Corley Centre changes 'would mean losing a safe haven'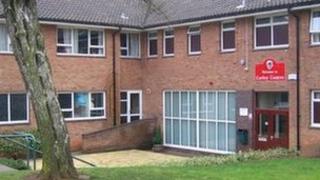 A woman from Coventry has said the partial closure of a centre for children with learning difficulties would deprive her son of a "home from home".
Tracy O'Neill's son Harry, 13, has autism and has used the Corley Centre in the city for two years.
It provides day, residential and respite care but Coventry City Council is planning to close the overnight and residential facility in order to save about £384,000 per year.
Mrs O'Neill said: "The most important thing about the centre is that he gets the right help for [Harry's] condition - he's learning life skills that other children take for granted.
"It makes a huge difference to our life and the school enables him to do day-to-day things like making a cup of tea safely or getting ready for bed or having a shower."
'Very valued'
The centre caters for up to 72 children, aged 11 to 16, with complex social and communication difficulties.
A petition, with 1,629 signatures opposing the changes, has been handed into the council.
Councillor Lynnette Kelly, cabinet member for education, approved the plans at a meeting although a final decision will be made at a cabinet meeting in February.
If approved, the residential and overnight aspect of the centre would close from September 2012.
Ms Kelly has said the money saved by the partial closure would be used to help others with special educational needs and disability in Coventry.
She said: "I should like to emphasise that the Corley Centre continues to be an important part of our very valued special school provision.
"I remain fully committed to meeting the special educational needs of the children at Corley Centre, but I need also to ensure that we have equitable and value-for-money provision for all our children with special educational needs and disability across the city."
In February, the authority said it needed to cut almost £39m from its budget.
'No replacement'
Mrs O'Neill said her son would lose a safe haven if it was to shut.
"He can't go out on his own, he has no sense of danger and his social skills are very limited so he doesn't have many friends outside of school," she said.
"I think it will limit his development as far as independent skills go - he actually functions better away from home.
"We're not able to teach him, he needs professional support with people that he knows so it's like a home from home."
Mrs O'Neill also said the overnight stay facility, which Harry uses twice a week, is a secondary benefit and the educational support he gets from the residential facility is vital.
"The main thing is that it's the right place for Harry to get the right help for his needs - that's paramount."
She said she would fight the closure because the alternative sources of support in the area do not match that provided by the Corley centre.
"There's nothing that's autistic specific, there's nothing that would replace Corley," she said.