Stour Valley otters given artificial homes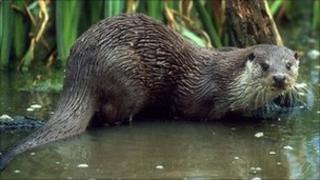 Wildlife groups in Warwickshire hope that artificial homes for otters built in the Stour Valley will help protect other native wildlife.
Volunteers have built the homes, known as holts, in remote locations lacking natural cover.
Warwickshire Wildlife Trust said much of the otters' natural habitat had been lost in recent decades.
They hope that increasing the otter population will stop the spread of American mink in the area.
The trust said minks have had a "devastating" effect on native wildlife, particularly the water vole, which is on the brink of extinction in the UK.
The holts were built by volunteers from the Warwickshire Wildlife Trust and the Stour Valley Wildlife Action Group.
They have two rooms, two entrances and are made of recycled plastic.
After construction the holts were camouflaged.
The trusts will now monitor the number of otters, minks and water voles in the Stour Valley area.