Taming of the Shrew pillow fight in Stratford-upon-Avon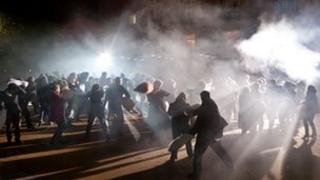 People in Stratford-upon-Avon have taken part in a giant pillow fight for the Royal Shakespeare Company (RSC).
The event had been organised to film a 45 to 75 second trailer promoting The Taming of the Shrew production opening next year.
The company Dusthouse invited people to take part in the video in Bancroft Gardens.
Chris McGill from Dusthouse said they had wanted to "capture the essence and the spirit of the play".
He added the idea had grown from the show's poster and also reflected the set design.
The video will be used on the RSC website to promote the production that opens on 19 January.