Jack Macleod death: Police to re-examine phone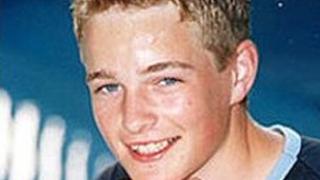 Warwickshire police have agreed to re-examine the mobile phone of a teenager found dead in a river in Warwickshire nearly six years ago.
But a coroner at Warwickshire Justice Centre has turned down a request to reopen the inquest into the death of Jack Macleod, 17, from Leamington Spa.
His body was found in the River Leam in January 2006, a month after he disappeared following a night out.
The decision to re-examine the phone has been welcomed by his family.
Coroner Louise Hunt concluded that all the issues surrounding his death had already had a full airing in public during the criminal trial.
However she said that if new evidence came to light, Jack's family would again be able to apply for the inquest to be reopened.
'Great sadness'
Family solicitor Errol Robinson, speaking after the special coroner's hearing in Leamington Spa, said: "An investigation is capable of establishing the shut down time of that phone which is relevant to the time that it can be established that he went into the water or was put into the water.
"We know that the technology has moved on and it's now possible to interrogate the data in that phone and to obtain some information.
"The importance of it is something that will have to be assessed once the information is available."
Jack's mother Sheena Macleod said December was a difficult month for the family because it was the month her son went missing.
She said: "It's very, very hard this time of year. We have difficult times throughout the year and we have great sadness that comes upon us.
"We have a very, very good family and very good friends who help in every way that they can to see us through this awful couple of months, December, January and February. There are many significant dates in that time."
In 2009, a manslaughter case against a friend of the teenager collapsed when a judge ruled there was insufficient evidence.
An inquest into the teenager's death in 2007 was halted after witness statements and a police interview transcript were not submitted to the coroner.