Myton Hospice: mixed emotions for families at Christmas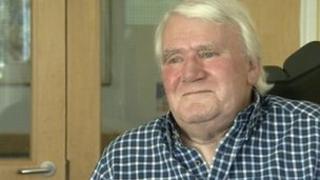 A respite patient who describes a Warwick hospice as his "second home" has said the best Christmas present he could have would be "another year, or two or three".
"This is my eighth visit in two years and hopefully I'll have another," said John Finnemore from Stretton on Dunsmore who has Motor Neurone Disease (MND).
He used to work as a floor layer until the onset of MND and said Myton Hospice is beneficial to him as well as his wife, Pam.
He said: "It affects my muscles, my breathing and sleeping - I have to sleep with a machine that inflates my lungs."
"Pam is my main carer - she is on the go 24/7 and it does take its toll on her and both of us really.
"I'm frustrated that I've got to ask her for help and she's frustrated because she can see that this isn't the John she knows."
Mrs Finnemore goes away for a week to visit family when John spends time at Myton.
Mr Finnemore said: "All the family are relaxed, they can go about their own lives without having to worry - it's absolutely brilliant.
Challenging time
"The first time it was suggested I thought you came in and don't go out again - I was very apprehensive but I realised that was wrong, it isn't like being in a hospital.
"We have banter and share jokes - hopefully we all enjoy one and other's company."
Andy Houghton is a senior staff nurse at the hospice and said the festive season can be a very challenging time.
"Christmas is for family and when you do get poorly people who won't be able to go back home, it's very sad.
"But it can be a happy time, we can bring that special festive feeling to Myton and we bring Christmas forward if we need to."
Mr Houghton, who said his wife also works at the hospice, described palliative care as his passion and said patients like John helped him cope.
"We talk to each other, we do have that time where you are sad and sometimes you have to let go and have a cry."
He said a hospice should not be a sad place.
"Yes, we look after poorly people where they come to die but Myton is a very happy place to work.
"There are hard times - you go home and it can hit home, we are all human."
'Another 12 months'
Mr Finnemore said Myton is full of mixed emotions at Christmas time.
"It's wonderful to see the children come in from different schools and give carol services.
"The are decorations and everyone's a bit more bubbly."
For the Finnemore family, Christmas is about hope.
He said: "The best Christmas present would be looking forward to another 12 months or two years or three years - just keeping going.
"The way we deal with it is 'we won't think about tomorrow, we'll think about what we're going to do today'.
"That's the way we find a better outlook - just live for today."