Warwickshire bipolar man 'saved' by art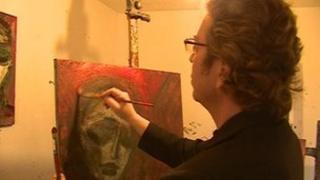 A Warwickshire man says his hobby as an artist has "saved" him and helped him to cope with bipolar disorder.
Jean-Pierre Kunzler, 44, from Leamington Spa, started painting 25 years ago as a way of dealing with the low or depressed points of his illness.
Mr Kunzler said: "It saved me because when I get to those very dark places rather than let it consume me I just paint."
He said he has spent months in hospital and was first admitted aged 14.
Mr Kunzler said bipolar disorder, previously known as manic depression, can be very debilitating.
He said: "It's a chemical imbalance, if you're manic or high, you can't paint - there were times when I couldn't speak or hear or see and I was looked after in hospital.
"Everybody suffers from mental gymnastics but the problem with manic depression is you don't realise it will pass.
"I find if it hits then you can transfer that on to the paintings."
'Better to create'
Mr Kunzler said he first started painting with oils and now draws too.
He said: "The artwork has given me a sense of myself and the insight I have into the paintings has given me insight into trying to do everything I can to stay well."
Mr Kunzler said some of his work has previously been on display at the Leamington Pump Room Museum and he often donates artwork to friends.
He hopes the art will inspire other people who might be suffering from a mental health problem.
"It's better to create than destroy - the most important thing is just to try and be as positive as you can," he said.
"If one of my pictures can make someone realise they're not alone then I've done something good."