Warwickshire Chief Constable Andy Parker in webchat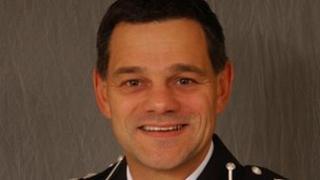 The Chief Constable of Warwickshire Police has chatted with members of the public online for the first time.
The trial webchat initiative, involving Andy Parker for more than an hour on Thursday evening, may be repeated in future, the force said.
Any questions not answered would be dealt with offline and the whole conversation published at a later date, it added.
Mr Parker started his new role this month after replacing Keith Bristow.
Mr Bristow left to lead the new National Crime Agency.
'Fallen significantly'
Mr Parker joined the force as Assistant Chief Constable, from North Yorkshire Police, in 2005 and was promoted to Deputy Chief Constable in 2007.
In the webchat, starting at 19:30 GMT, he said crime had "fallen significantly in Warwickshire over the last five years".
Mr Parker said: "We have gone from 124 crimes a day to 93 and Warwickshire is a relatively safe place to live. Crime has risen slightly this year but the overall trend is downwards."
Asked about "policing such as organised crime and special branch activities" and work with the West Mercia force, he said Warwickshire was "very successful at dealing with serious and organised crime".
'Excellent relationship'
Mr Parker added: "You may have seen our recent activity in Rugby, Operation Laser, where 58 people were arrested. Our alliance with West Mercia will provide even more resilience to tackle such crime."
He was also asked how the introduction of police commissioners would affect the organisation of Warwickshire Constabulary and its police authority.
Mr Parker replied: "The Police Commissioners will replace the police authority in November 2012. We have an excellent relationship with the police authority and I hope this will continue with the new [Commissioner]."
Questioned about police community support officers in connection with funding, he said they "provide an excellent service" and would "continue to be a part of policing in Warwickshire".