Former Coventry foster carer appointed MBE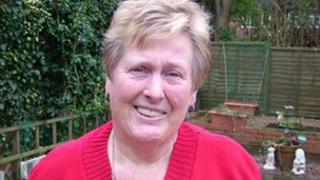 A former foster carer from Coventry has been appointed MBE in the New Year Honours list.
Janet Finch, who is being recognised for her services to children and families, is one of eight people to be honoured in Coventry and Warwickshire.
She has fostered "well over 100" children during the past 35 years and is "over the moon" at the honour.
Other people to be recognised include a former assistant head teacher and a vice-chancellor.
'Very proud'
Talking about her award, Mrs Finch said: "The Cabinet Office phoned me to say that my name had gone in front of the Queen... and then two weeks ago they notified me to say I'd definitely got an MBE, which was lovely.
"Sometimes you can be walking around town and parents come up and thank you for what you've done for them... which to me, if you get the parents' recognition, I think it's a good thing."
She said she was recommended by a "young man" and a social worker, and received the award because she carried on after her husband died and "nothing had changed for the children that were there".
Mrs Finch said: "My Dad would have been very, very proud because he was a royalist and this would have made his day, to think that his only daughter's got this sort of award."
Professor Madeleine Julia Atkins, from Kenilworth, who is vice-chancellor of Coventry University, has been appointed CBE for services to higher education.
She said: "It was a big surprise, but it was really in recognition of what the university has achieved over the last few years."
Other recipients to be honoured include:
MBE
Sean Francis O'Donovan, from Rugby, formerly assistant head teacher at Cardinal Wiseman Catholic School in Coventry, for services to education
Margaret Bates, from Atherstone, formerly senior executive officer at Jobcentre Plus in the Department for Work and Pensions
Sheila Hinds, from Nuneaton, formerly executive officer of pension, disability and carers service at the Department for Work and Pensions
CBE
Kenneth Caley, from Stratford-upon-Avon, Chief Crown Prosecutor of the eastern region at the Crown Prosecution Service
Marion Clare Davis, from Southam, director of children, young people and families at Warwickshire County Council, for services to children and young people
Other awards
Julia Ann Brown, formerly deputy clerk to the Lieutenancy of Warwickshire, has become a Member of the Royal Victorian Order (MVO).