Mum Jane Hopkins gets MBE for creating online community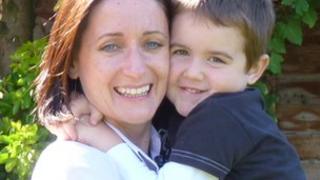 Five years ago Jane Hopkins was struggling to find a way to make a living.
The new mother from Warwickshire had recently become single and with childcare costs a cause for concern, she turned to the internet for inspiration.
Fast forward to 2012 and the 37-year-old has been appointed MBE for creating an online community called Mumsclub that helps new mothers make their way in business. It currently has 5,000 subscribers.
"I didn't have a clue what I was going to do so I looked online at community forums for business people," she said.
"I felt a little bit intimidated going on these forums because there were people who I felt were high flying and knew what they were on about and I thought that's not me.
"I realised there were quite a few women who were talking about their children and I thought I'd quite like to meet more of these mums who were running businesses.
"I looked around and couldn't find anything that was specifically supporting mums so I retrained in web design and figured out how to do it myself."
'Utilising skills'
Ms Hopkins' online venture began in the summer of 2007 when her son was less than 12 months old and has since spawned the Business Mum's Journal and a national Business Mum Week, with 25 networking clubs dotted around the country too.
The 37-year-old makes her money by utilising the marketing and sales skills she honed while working in the property trade in Spain.
"I was setting it up for me so I could find other mums and get inspiration for what I wanted to do but it grew and grew and I started selling advertising," she added.
"I used to say I've used my baby's sleeping patterns wisely. Whenever he was asleep, I was at the computer."
Instilling confidence and overcoming fears are key to making a living from home, according to Ms Hopkins, who relies on long-standing subscribers to offer support to new joiners.
"The first thing I did was put a forum on there so mums can log in for free and chat to each other.
"They can ask all the questions that they've ever thought of without any fear of anybody laughing at them.
"We find that quite a lot of mums that are now doing OK and have established their businesses come back to help the next generation and pass on what they've learned to the new mums that are just starting out."