New advanced keyhole technology for Warwick Hospital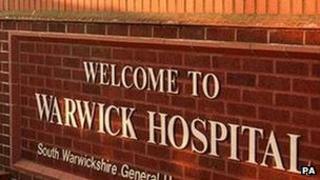 A Warwickshire hospital is to officially open its newly furbished theatres later after a £4m redevelopment.
Warwick Hospital is now the first in the West Midlands to have an integrated theatre with advanced laparoscopic [keyhole surgery] technology.
This means that surgeons will be able to control the equipment for surgery from a one touch screen monitor.
The hospital hopes to be able to carry out more advanced keyhole procedures.
High definition camera
Staff will be able to preset surgery requirements, which will take preparation times down and allow more patients to be treated, a spokesperson for South Warwickshire NHS Foundation Trust said.
The theatre will also enable more advanced gynaecological laparoscopic operations and non-cancer bowel work, in addition to the advanced laparoscopic cancer operations already performed, the spokesperson added.
The operations will be filmed with a high definition camera that transmits pictures of the patient's internal organs to screens in the theatre.
Medical and surgical trainees will also be able to see the live images at training facilities around the country.
Consultant surgeon Mike Stellakis said: "We will now have the ability to become a leading training institute to train other surgeons from around the country in these advanced keyhole techniques."