Coventry flats clear-up continues after flood evacuations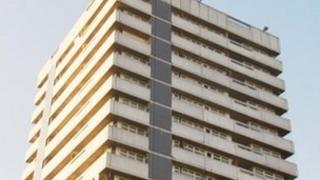 Residents evacuated after floods at flats in Coventry will not be able to return until Wednesday, according to the city council.
Almost 200 people were evacuated on Friday evening after floods damaged the 16-storey flats at Caradoc Hall in Henley Green.
The council said the damage had been caused by thieves removing part of a copper mains pipe on the 12th floor.
About 80 people are currently being accommodated in local hotels.
Coventry City Council said all the agencies involved "really stepped up" in response to the incident, despite the flats being owned by a private landlord.
An emergency rest centre was set up at Henley Green Community Centre on Friday night.
West Midlands Fire Service said it had been called, at about 16:00 GMT on Friday, after flooding damaged the flats and started a small fire in a ground-floor electrical room.
It said the water mains had been quickly isolated and the fire extinguished but the water had caused extensive damage.
West Midlands police are investigating the incident.