Coventry's Harnall Lifehouse homeless centre opens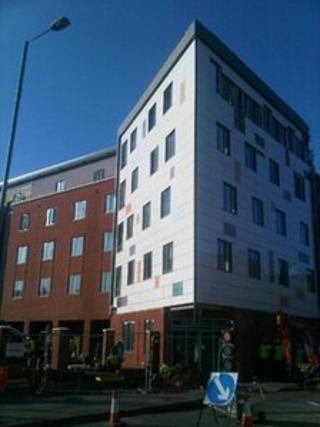 A £9m purpose-built centre for homeless people in Warwickshire has begun taking in residents.
The Harnall Lifehouse in Coventry is run by the Salvation Army and can accommodate up to 80 homeless people.
The centre replaces a shelter in Lincoln Street which had been running since 1973.
The Salvation Army said residents would have access to a range of vocational and practical courses to help them overcome the causes of homelessness.
Carl Clarke, 21, from Coventry, who had been living in Lincoln Street, said: "Being able to move into Harnall Lifehouse will make 100% difference to me and will help me put my life back together."
Residents in the new centre will live in "clusters" of five, sharing a modern kitchen and a communal dining area.
Centre manager Nathan Slinn said: "It will be easier to pass on the concept of our centre being a place of change being based in a brand new, purpose-built building."