Stobart: Talks hope for Alcester distribution plant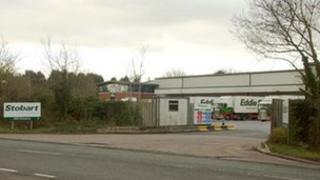 The Stobart Group is to be lobbied by an MP and councillors over plans to close a distribution plant.
The company has announced plans to close depots in Alcester, Warwickshire, and in Corby, Northamptonshire, as part of a wider reorganisation.
About 150 jobs could be lost from the two sites.
Alcester county councillor Mike Gittus and Stratford-upon-Avon Conservative MP Nadhim Zahawi said they hoped to salvage something from the plans.
Conservative councillor Mr Gittus said the news was terrible for Alcester.
"Employment is quite important in a market town such as this," he said.
"We are a tight, structured community where employment is as important as education."
He said he and Mr Zahawi hoped to visit managers during the consultation period.
The firm says it is investing in a new warehouse in Magna Park, Leicestershire, about 50 miles from Alcester, and hopes to create new jobs there.