Children's services at Warwickshire hospitals could be shared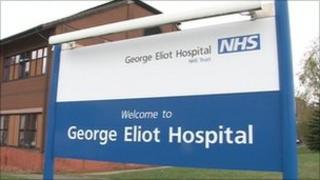 The future of children's services at a Nuneaton hospital could be safeguarded by a new plan to share doctors with a Warwickshire hospital, it is hoped.
The George Eliot Hospital has proposed a partnership with Warwick Hospital.
The number of paediatricians based at George Eliot would be doubled to eight. Warwick Hospital would maintain current staff levels of 10 senior consultants.
The proposals have been forwarded to primary care trust, the Arden Cluster.
The trust is currently reviewing children's and maternity services as it looks at possible changes to the NHS in Coventry and Warwickshire.
"What it would allow for over time would be for a network to develop across Warwickshire that would be really strong and robust," said Kevin McGee, the George Eliot's chief executive.
'Closure fears'
Stephen Jones, chief executive of the Arden Cluster, said: "The approach of networking clinicians has now been suggested to support one of the proposals and we will be assessing this suggestion, as will the Royal College of Paediatrics and Child Health.
"We realise there has been concern voiced by local people and local politicians about the implications of any changes to services on the future of George Eliot Hospital.
"However, I wish to make it clear that we value George Eliot Hospital's role in providing healthcare for local people and are very much supportive of the hospital."
Last week, three local councils opposed any suggestion that Nuneaton should lose its maternity or children's services, because they feared this could lead to the closure of the hospital itself.
Annually, there are 2,500 live births at George Eliot and about 17,500 children are admitted to its A&E department.