Herbert Art Gallery and Museum misses out on funding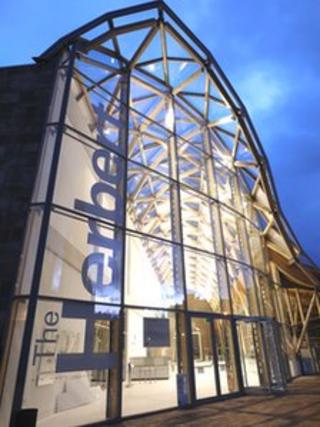 A union fears the Herbert Art Gallery and Museum in Coventry could lose a third of its workforce after missing out on a crucial grant.
The Arts Council turned down the gallery's £500,000 bid in its latest round of arts awards.
Union Unite, which represents museum staff, said that could mean the loss of up to 19 posts.
The museum trust said it would have to look at "reducing activity and expenditure".
A spokesman said: "This year the Arts Council funding totals £478,815 of our total turnover of £2,741,857- that's 17%.
'Not a priority'
"As a not-for-profit company, the trust sets a balanced budget each year and therefore we will have to look at reducing activity and expenditure to set a balanced budget for 2012/13."
Alan Lewis, from Unite, said the funding loss was disappointing.
"These people were funded by the Arts Council on a fixed-term basis and clearly because of the lack of funding at the Arts Council, they've decided on their priorities and clearly the Herbert is not one of them," he said.
"The frustration for our members is that the trust was only set up in 2008 and here we are three or three-and-a-half years later not able to carry on in the way it was designed when it was set up."
The museum, which opened in 1960, is named after Sir Alfred Herbert, a local industrialist who owned a huge machine toolmaking company.
More than 300,000 people visited in 2010, making it the sixth most popular free attraction in the West Midlands, the museum said in December.