Cubbington campaigners 'continue fight' against HS2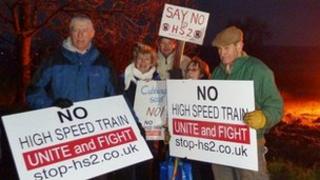 Campaigners in Warwickshire are meeting later to discuss how to continue their fight against plans for the £33bn High Speed Two (HS2) rail link.
Cubbington Action Group Against HS2 is holding a meeting to plan the next steps against the scheme which was given the go-ahead last month.
The group also wants to meet with HS2 Ltd to discuss the environmental impacts the line will have.
HS2 Ltd has said it will be setting up forums to talk to campaign groups.
The HS2 line from Birmingham to London will reduce the journey for commuters to 45 minutes.
Protesters say they are concerned about the noise and visual impact on houses on Leicester Lane, the damage to the Leam valley and noise impact on Cubbington as well as the effect on South Cubbington Wood.
An HS2 Ltd spokeswoman said: "We wrote to Cubbington Action Group last year to explain that we would be happy to engage with them in 2012, following the Secretary of State's decision regarding HS2.
"The route announced on 10th January incorporated some changes in the Cubbington area, in response to the consultation.
"We are currently establishing community forums which will be the first step of our engagement with local groups."
'Better solutions'
The campaign group's chairman, Peter Delow, said: "We are amazed at how casually the government has dismissed all the doubts about the details of the HS2 proposals that have been expressed by thousands of respondents to the public consultation.
"Unbelievably, the response by the government seems to be, overall, that there were no faults in the original proposals."
Protesters are also worried about the loss of the National Champion Wild Pear Tree on the route.
Mr Delow said: "Government decisions have been reversed in the past so the fight continues, especially to get better solutions for Cubbington."
Protest groups have been set up by anti-HS2 campaigners in Northamptonshire, Warwickshire, Staffordshire and Buckinghamshire.