Bedworth band The Moonshines hope 2012 is no lunar eclipse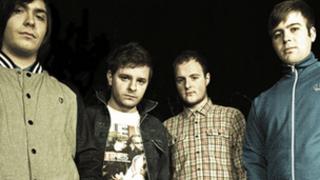 A Warwickshire band is hoping 2012 will be their year after going relatively unnoticed for the past 12 months while they put in plenty of ground work to hone their sound.
"We've got the songs and now we're just waiting to go out there and see what we can do really. See if people like them," said Peter Ludgate, vocalist and guitarist with the Moonshines who formed in late 2010.
Drummer Shaun Brown added: "When we started we didn't have any songs and we just wanted to refine the sound and get the set comfortable so we could play it live. Once we're out of the studio we should be gigging quite a lot.
"We've only played one gig in Coventry and three around Bedworth.
"I think it's safe to say we are pretty much still under the radar."
But all that could be about to change as the Bedworth act kicked off the new year as BBC Introducing in Coventry and Warwickshire's band of the month, gaining plenty of air-time throughout January at the same time as recording even more songs.
Now armed with a healthier arsenal of upbeat and spiky tunes like Mickey Moonshine and It's Just a Must, the four piece, which also includes Stu Burnell (guitar and vocals) and Levi Watts (bass), feel fully prepared to begin their assault on the music-loving masses.
'No leaders'
Peter and Shaun have already tasted some success with Just Morale, another Bedworth band that won a place on the main stage at Coventry's Godiva Festival in 2009, while the other two members have also been active on the live circuit.
"I've been in bands before but this is the first one where we've actually gone to a studio and recorded the music. It's a good feeling," said Stu, who knew all three of his band mates from their school days at Nicholas Chamberlaine Technology College.
When it comes to writing duties, the lyrics are penned by Peter and Stu, although the former is keen to stress there are "no leaders in the band in regards to music and stuff like that".
"We're a group of fellas who want to play some decent music and have a decent laugh at the same time," he added.
"We won't rush for anybody, not in a big headed sense, more in the sense that we've been working a lot in 2011 to get our own vibe going.
"Now it's out and we're ready to have a bit of 2012 for ourselves. We want to play the Godiva Festival and who knows after that."