Coventry residents battle fuel poverty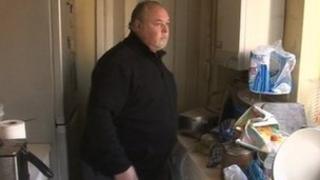 "People are having to choose to either eat or stay warm. People are dying."
That is the stark warning from a Coventry woman who found herself in fuel poverty.
Margaret Gale from Bell Green is not alone as more than one in four people in the West Midlands have found themselves having to spend over 10% of their income on energy, according to figures from the Department of Energy and Climate Change up to 2009.
In 2003 that total was about 7%, with an increase in fuel bills being blamed for the rise.
The problems began for Ms Gale when she lost her husband in October 2010 and her job ended.
"I'd gone from earning £2,000 a month to a £190-a-week pension," she said.
"I was paying £80 a month and they wanted me to go up to £120 which on £190 a week was difficult to pay and all of a sudden I got this £600 bill.
"I just panicked."
Living in bed
Ms Gale also got into arrears with her rent and council tax but has begun to manage her fuel bill thanks to Coventry Law Centre (CLC). The charity helped get half of it paid off with the rest being paid by Ms Gale.
She also had to pawn jewellery and change fuel company to get on top of her finances.
"I thought I could manage. I tell other people they can manage. And all of a sudden I couldn't," Ms Gale added.
It is a similar story for Arthur Watkins, who lives in the Foleshill area of the city.
He was working until five years ago and ill health now prevents him from getting a job, leaving him in receipt of incapacity benefit and industrial injuries benefit.
"I used to come in and make myself a cup of tea and then probably go upstairs... and get into bed to keep warm," he said. Mr Watkins has now had a more affordable rate of repayment negotiated.
Examples like this are of no surprise to Anne White, who works for the CLC, which is holding an open day at Coventry's Methodist Central Hall on 6 February.
"The type of case that we're seeing are people that are really in a bad way with their fuel arrears, not being able to heat their homes," said Ms White.
"They're struggling to feed themselves or keep warm."
With temperatures currently dipping, Ms White does not want to see repeats of Mr Watkins' case or that of another man she recently dealt with.
"He was living on toast and unable to turn his heating on. He was boiling a kettle to wash himself."