Man charged after flood at Coventry tower block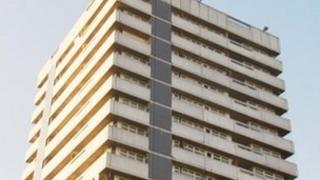 A man has been charged in connection with a flood that led to the evacuation of 124 flats in a Coventry tower block.
Residents at Caradoc Hall had to move out on 13 January when a burst water pipe on the 12th floor caused water damage estimated at £20,000 and interrupted the electricity supply.
Adam Sheehy, 32, from Henley Green was charged with criminal damage and attempted theft.
Coventry magistrates court remanded him in custody until 10 February.
Almost 200 people were evacuated after floods damaged the 16-storey flats.
An emergency rest centre was set up at Henley Green Community Centre and some people were accommodated in local hotels.
Coventry police said a 47-year-old man previously arrested in connection with the incident had been released from police bail without charge.