Coventry pair sentenced for Peter Wilson murder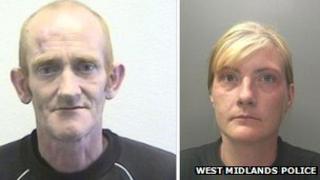 Two people convicted of murdering a 47-year-old man have received life sentences.
Raymond McEnery, 55, and Dana Webb, 34, were sentenced at Coventry Crown Court on Thursday for the murder of Peter Wilson.
McEnery and Webb, both of Binswood Close, Coventry, must serve a minimum of 12 years in prison.
Mr Wilson, who had been stabbed, was found at his home in Honiley Court, Lillington Road, Coventry in July 2010.
The family of Mr Wilson described him as "a good man" who was "loved by his family and friends and always had a way of making the day bright with a crazy joke or smile".
They added: "He was taken by a callous and cruel act, stabbed in the back and left to die on his own with no-one to comfort him in his dying moments."