Coventry woman plans jubilee street party after 'positive impact'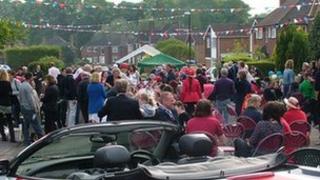 A Coventry woman hopes to organise a street party for the Queen's Diamond Jubilee after the "positive impact" one had on her community last year.
Lesley Benson from Wyken helped put on one of 25 parties held in the city to celebrate the royal wedding in April.
Ms Benson said she "only knew two people in the street" before the event brought her neighbours together.
Street parties could take place over the Bank Holiday weekend of the Queen's official birthday in June.
Deputy leader of the city council, George Duggins, said there had been examples of other community events taking place where "the same streets have come together".
"When we simplified the application process this is exactly what we had hoped would happen, and we aim to make this year a record breaker for street parties," added the Labour councillor.
"We're doing our bit at the council by producing one simple form for residents to use to let us know about their plans, so they can get on with the real work of organising a fun event."