Annual Atherstone Ball Game takes place despite setbacks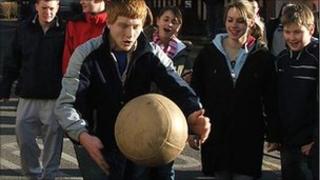 One of Warwickshire's oldest traditions has taken place for the 813th time.
The game was won by Johnny Slessor, from Grendon. Two people were injured, including one for concussion.
The Atherstone Ball Game was under threat this year following police cuts, but organisers formed a company to deal with health and safety issues.
It was reported that Warwickshire police were to have less than half the number of officers on duty in the town than there were last year.
The game involves hundreds of men and boys battling it out for the ownership of a heavy leather ball.
'Overwhelmed with response'
Last year Harold Taft, who had organised the game for the past 15 years, retired and a committee was formed to make sure the game could continue.
Solicitor Kevin Garner, who has given his time for free to help with the legalities of organising the event, started the game by throwing the ball out.
He said: "We have had a lot of help and we've been overwhelmed with the response from former winners and players when they found that there wouldn't be the usual police presence.
"I've had a great deal of help from Warwickshire police who have guided me as to what they need to do because there wasn't a structure in place before, and they've given us lots of planning documents."