The Fallows to release debut album and are 100th featured band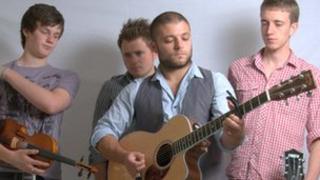 The Fallows may have formed in 2010, but 2012 is set to be the best year yet for the Coventry band.
They are set to release their debut album Face the Wolves at Kasbah in Coventry on 3 March, with support from The Session and The Moonshines.
Their music is a fusion of folk, rock and pop that rolls along with the beat of the kick bass drum.
They are the 100th BBC Coventry & Warwickshire Band of the Month, and are the featured band for February.
Notable shows over the past twelve months include hosting their own stage at the Godiva Festival and sharing the bill at the Warwick Arts Centre with Beneva as part of the venue's Under the Radar series.
In 2011 The Fallows played 26 gigs over seven months and they are already planning for the rest of this year.
They even had a song from their EP played on the soap, Hollyoaks, which the band describe as "a nice little highlight".
Napton Festival
Speaking about the band changes over the past year, they said: "We've got Neil now, he's a champion fiddle player that we got in touch with when we were recording the EP, and he's joined the line-up to help us out with the album."
"We started recording the album around September last year and it was finished in time for Christmas.
"Now we're trying to drum up support with local media and press, social networking, trying to get as many people as we can in the know about the album and then hopefully we'll stand a chance with a bit of interest when it's released."
And what are the plans for the rest of 2012?
"We've got a few festivals in the pipeline, and we've confirmed for the Napton Festival. We've got some local and London gigs booked, and we're back headlining at Chinawhite.
"There always seems to be some VIP party going on in the back room."