Draycote reservoir refilled through new pipeline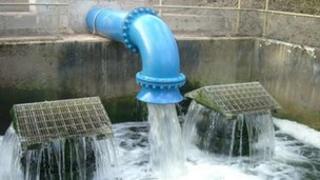 A reservoir in Warwickshire is being refilled using water brought by a new £500,000 pipeline.
The pipeline links Draycote reservoir to the River Leam at Willes Meadow, near Leamington Spa.
The reservoir was less than half full when work began on the pipeline in February.
Kate Vickers, from Severn Trent Water, said: "We are able to pump up to a maximum of 12.5 million litres a day into Draycote."
The water is being pumped a total distance of nine miles and up to a height of 50m (162ft).
Severn Trent Water said the reservoir was now 56% full and was being refilled at a rate of 1% a week.
When full, the reservoir contains enough water for two years of normal consumption.
The water company said that over the past six months it had focused on moving water supplies across its water grid from the wetter west to the drier east to balance out regional supplies.
Severn Trent's water resources manager Marcus O'Kane said: "Despite record low rainfall over the winter period and the Environment Agency stating that parts of the region are officially in drought, we are doing everything possible to avoid restrictions for our customers this year."