Warwickshire county cricketers have skin cancer tests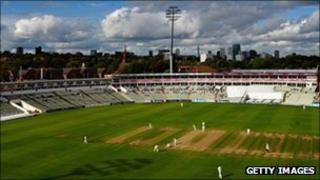 Warwickshire's cricket squad is to be screened for skin cancer ahead of the new season.
The Professional Cricketers' Association (PCA) has been arranging for all county players to have skin checks since 2009.
The union said it was keen to protect players who spent a lot of time outdoors, as well as raise awareness.
The men will get skin assessments and mole checks at Edgbaston cricket ground by specialists from sk:n.
'Lesson for all'
PCA chief executive Angus Porter said: "We think it's just a good and responsible action to get people who spend a lot of their working life outdoors to get a check-up.
"And it's a lesson for everyone who is outside a lot that they should also get regular check-ups."
He said the risk of skin cancer among cricketers had "always been an issue" but awareness about the disease and its prevention had now increased.
Mr Porter said as well as playing matches, cricketers were outside for training sessions and many also played overseas during the winter.
However, he added players were not likely to spend any longer outdoors than workers such as farmer and gardeners.
Sk:n, which runs clinics across the country, said skin cancer was a growing problem in the UK, with more than 100,000 new cases diagnosed every year.
It said most skin cancers were caused by long-term exposure to the sun, but that in most cases it was a preventable disease.