Work begins on Hertford Street in Coventry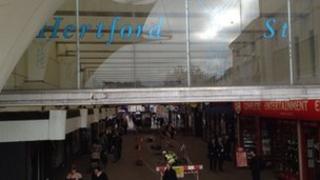 Work to revamp a shopping area in Coventry city centre has begun.
Seats and bins will be removed from Hertford Street while a roof and signage will be dismantled to allow more natural light into the area.
The changes are being made two years ahead of the of the £300mCity Centre South plan redevelopmentand are due to be completed by the start of June.
Pedestrian access and businesses will be open as usual during this time.